Kathys Pet Services: Dog Boarding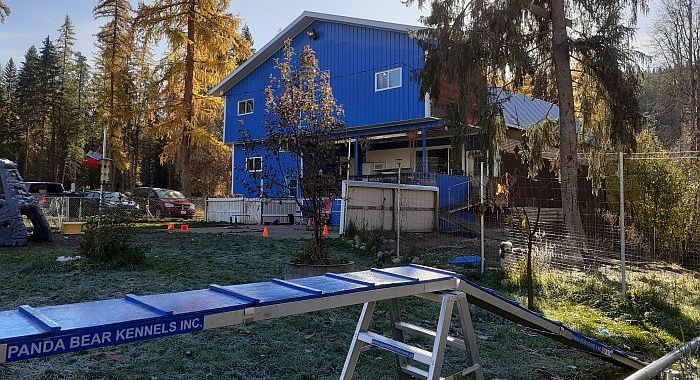 Dog boarding for when your dog needs a vacation too!
For times when you need to leave your dog, we offer low-stress, cage-free boarding in our home. Your dog gets to live with us and be treated like a member of our family while you are away. Dogs can play in one of our two securely fenced yards or relax on a selection of dog beds or couches in the house.

Dogs that come when called, are welcome to join us on a river walk or a hike on local trails (with owners prior permission). Day trips to the dog park and car rides are also an option. Care is individualized to your dog and there are no additional charges for medications or special care.
How Boarding in our home works
Our goal at Panda Bear Kennels is to make your dog feel that our home is their home. To achieve this, much thought and experience is put into our house rules. The sole purpose of the rules are to keep the dogs that stay with us calm and happy.

Arrival / Pickup:
One of our most stringent rules is that drop off times must be booked by appointment. This allows us to be flexible for you, while keeping the dogs in our care calm during a more stressful time. Our goal is to keep your dogs under their excitement thresholds during times of change. When dogs are arriving or leaving, we like to keep our other guests calm.

Sometimes we adjust nap or feeding times slightly so that we avoid the barking at the door situations. Other times we separate dogs who enjoy this behaviour too much and give treats to those who are calm. It is a process and because we know our boarding dogs well, we can work with a method that works best for them.

We appreciate you being punctual or messaging if you are delayed. With early morning drop offs, we often adjust our waking time so that your dog can be in the house before the entire crew is awake. Considerable thought goes into managing the situations safely. We have no problem with you ringing the doorbell if we have not seen you drive in.
What to bring / What not to bring
We ask that you bring only food for a number of reasons. We prefer to use our own bedding and bowls so that yours do not get lost or damaged. We also ask that you do not bring special toys as these can be a subject of dispute for some dogs. You may bring bones and stuffed kongs etc. and these will be doled out at our discretion. All dogs are separated during feeding times and when chewing special treats. This is essential to keeping the peace.

You may bring jackets and sweaters but we rarely use them. If your dog is going out with a group, these items are more dangerous than helpful. Rest assured if your dog is cold while playing, we will bring them inside to play.
Closed!
We ask that you respect the "Closed" sign. We are closed because there is nobody here to help you. Though we plan our schedules carefully, we do have to get groceries or we may be out walking dog.

Knocking on the door or ringing the bell just upsets our guests. The closed sign will tell you when we are back. You are welcome to wait quietly in your car, but we ask that you do not wander around the buildings and upset the dogs.
Introductions
Introductions to the group take time and we are especially careful at this time. We want your dog to be successful with this type of boarding.
Facility Visits/Tours
We do not allow "visits to our facility" for several reasons. Due to COVID-19, any visits to our facilities must be for pick-up or drop-off of your pet only.